Computer-aided design
Assignment: Model (draw, render, animate, simulate, ...) a possible final project, and post it with the original 2D and 3D files.
This second week, we were asked to evaluate and select different 2D, 2.5D and 3D software, in order to visualize a possible final project. This week I mainly worked on visualizing two ideas: (1) Burea crazy (from cabinet to wall) and (2) Making a physical model of the Amsterdam North area, through modelling iconic buildings, mainly the EYE film museum. Now, there is quite a number of such software (see Neil Gershenfeld's list), so I did lots of exploring -something I like, which eventually led to this selection of tools:
Tools used and outcomes
Inkscape: Inkscape is a free and open source vector graphics editor. It is available for Mac OS X, but you need XQuartz to run it. It is less buggy than last time I tried and it is pretty easy and straight forward to use. Our local instructor Cecilia pointed out that it comes with a special button to create spirals. Not that you will ever need this, but still.
Illustrator: Adobe Illustrator is the most standard and professional vector graphics design program. It is not free, but thanks to my university affiliation, I have access to the full Adobe package. Because of my aesthetic preference for pixels and bitmaps, I normally use Photoshop. However, as for certain, digital fabrication purposes (e.g. making stickers, textile printing,...) it is a much more logical choice, giving me great incentive for gaining a more in-depth understanding of the program.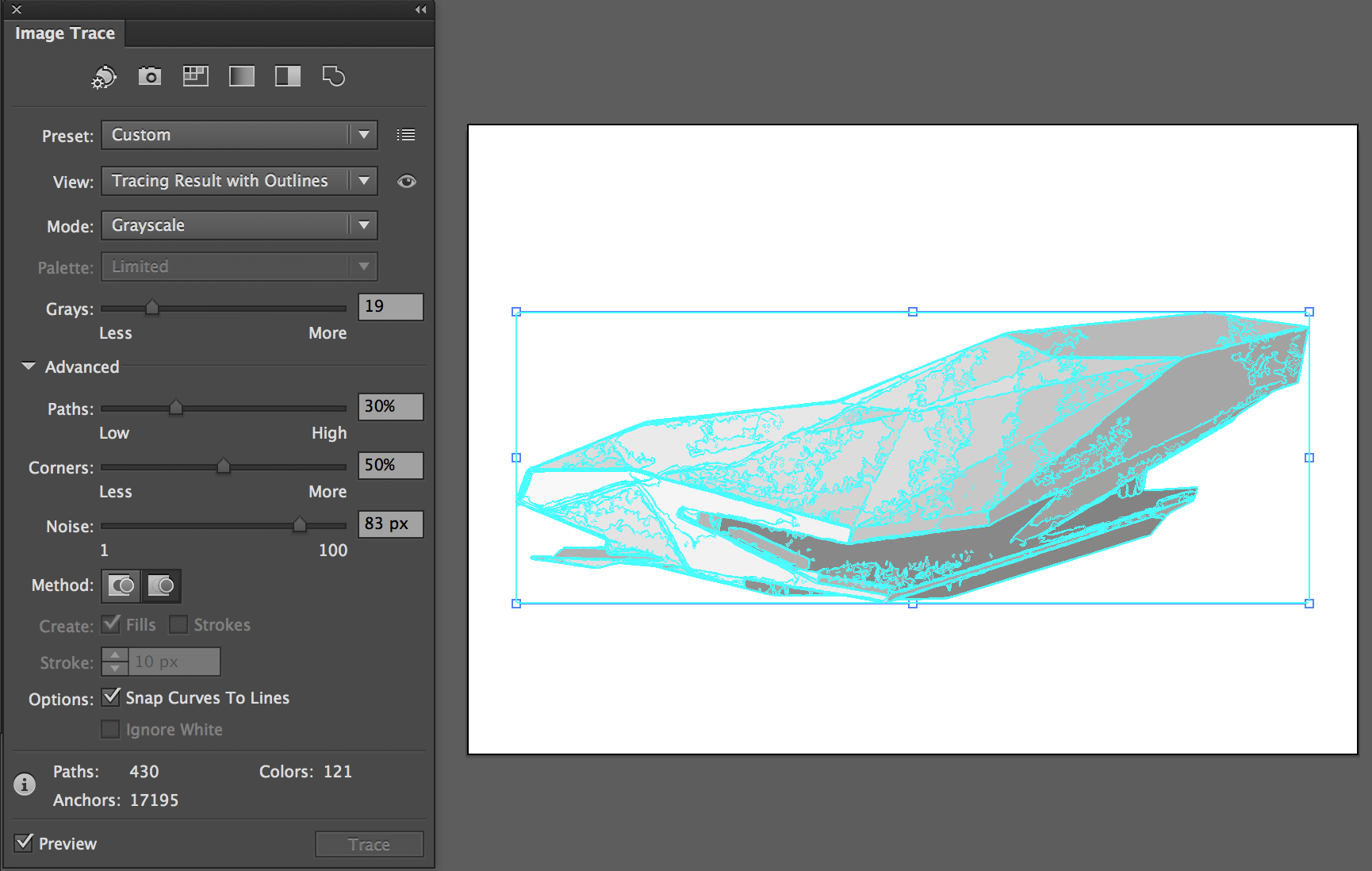 Although the Trace bitmap functionality on Illustrator is pretty nifty, in this case it turned out that it was better just to redraw the picture using the pen tool. For this purpose, I used a picture of the EYE film museum on the background (changing its colours to red to better differentiate), so to better know and decide on what lines to draw. The shape of the EYE building is pretty complicated and dynamic, and consequently it was great to give it my own 'Escher like' interpretation.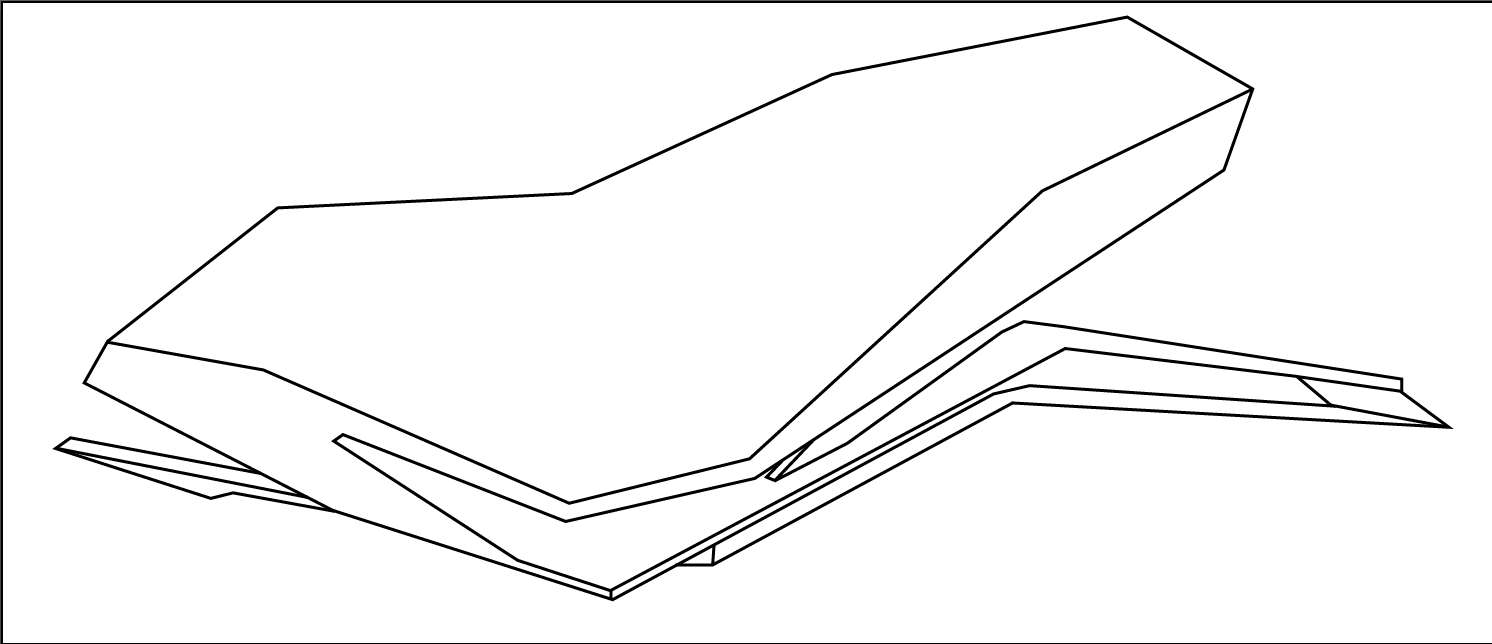 Fusion 360: In Amsterdam North, there is another iconic bulding, the Adam tower. I had used Autocad Fusion 360 before to 3D model this building for 3D printing, as well as a visualisation of the Bureau crazy idea. Although I had succeeded, and gained some Fusion 360 knowledge in the process, I also wanted to give other 3D modelling software a go. SolidWorks sounded very interesting in terms of profesional and exact model making, but I did not have access to it (yet) and not really suited for Mac OS. As Cecilia was really enthousiastic about Rhino, I decided to give it a go.
Rhino: Now, my idea was not to make a 3D copy of the EYE building (I leave that one to the architects). Instead, I wanted to use this creative shape as a 2(.5)D base for jewelry and particularly, a coaster. I started watching some tutorials, but fell asleep, which was probably not a good sign. Still, in the end I was able to make a simple extrusion of the 2D drawing of the EYE building, previously made in Inkscape and Illustrator. I am pleased with the result as it was exactly what I had in mind without having to compromise in terms of software capabilities.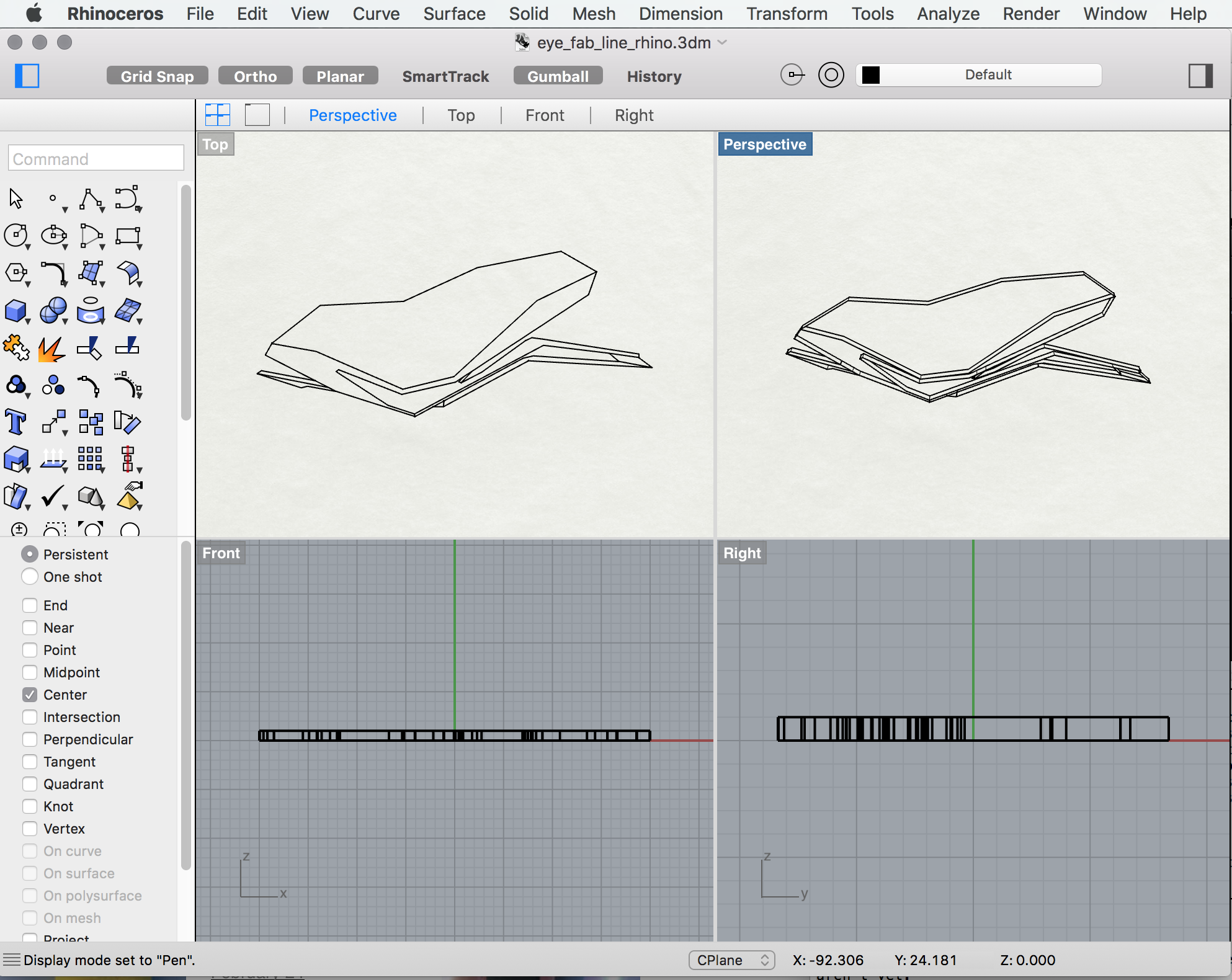 Still, I want to get more skilled with all the software, and work out some more ideas, but that is for next time...
For the future
Edge Animate: Although this one was not one the list, I watched a nice introduction on Edge animate on Lynda.com - a great resource to improve and learn new skills (if you have acces to it). Could this be the long awaited replacement for Flash?
Bureau crazy: some more design detail
The goal of my envisioned final project is to craft an interactive award/ installation for empowering the public and fight against bureau-crazy occurrences.
This idea originates from the Dutch saying 'van het kastje naar de muur gestuurd worden' (literally: going from cabinet to wall). What it means is going back and forward in a fruitless manner, going from pillar to post while occasioning much frustration in the process. Adding to the frustration is that such bureaucratic processes often lack tangible means to improve and visualize such situation and a clear party one can blame.
To address this, using and exploring (visual) digital fabrication techniques, the envisioned interactive design of Bureau crazy is meant to physicalize such frustrating processes, allowing the public to have a tangible way to clarify such situation or at least have means to direct their frustration.
Below shows a very quick and dirty animation of the main principle (to realize this I tested Photoshop's gif animation functionality using Layers, Timeline and Save for Web). It shows an endless back and forward loop of Ga naar de muur (Go to the wall) <-> Ga naar het kastje (Go to the cabinet).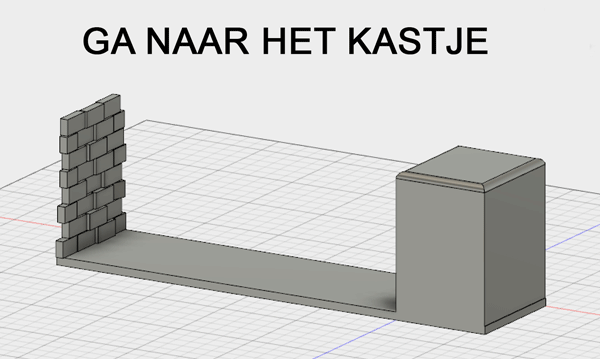 Files