3D scanning and printing
The topic of this week: 3D printing and scanning(<link to lecture)
3D printing: Strenghts and weaknesses
US president Obama: "3D printing has the potential to revolutionize the way we make almost everything".
Neil Gershenfeld:"3D printing is like a microwave, it is only good for some specific purposes".
3D printing is booming. According to many it is the next revolution, while others are more sceptical. The debate whether 3D printing is going to live up to its potential is an interesting one. On the one hand, 3D printing has already shown to be valuable in many different fields, such as dentistry, artificial limb making, art, fashion, food production and architecture. On the other hand, there are economic limitations making it unlikely to replace traditional manufactoring. Furthermore, the field of 3D printing has not yet fully matured, meaning that the vision of simply making any part at the push of a button at a local printer has yet to realize. In parallel, in the professional field, as well as in the academic domain, there is an increasing interest in (improving) digital fabrication, and particularly 3D printing. Its resulting efforts range from more user centred, faster and unique ways of printing (e.g. using de-assembling techniques), to pushing the bounderies of 3D printing processes, machinary and material (e.g. printing soft teddy bears by Disney research). With the exponential growth of the fab labs, the availability of 3D printing services is also growing. However, the general public still has yet to adopt 3D printing on a a large scale. What I find interesting is that it has the potential to make an increasingly invisible world of digital data and processes more tangible. Indeed, the merits of 3D printing are a multifaceted debate. In any way, it is an interesting tool worthy of exploring...
3D printing and scanning in practice
This week I got the opportunity to experience the strenghts and weaknesses of 3D printing hands-on. Preceding the Fab Academy, I had already completed a 3D printing course (at CREA, Amsterdam-using the Ultimaker 2), so I wanted to extend my knowledge and results and focus on learning something new. Thus for this week, I explored different ways of 3D printing and particularly scanning techniques to learn all the ins and outs.
Creating a 3D object involves four main steps: (1) making a 3D model that can be printed (e.g. using Fusion 123D, Tinkercad, Rhino... or 3D scanning techniques), (2) "Slicing" that model in the best possible way to avoid printing outcome errors (e.g using software called Cura), (3) Printing it with a 3D printer (e.g. Ultimaker model), and (4) post-processing your creation (e.g. cleaning and washing your parts). These all require labour and time...
3D printers: The right settings...
The Waag society has two different kinds of 3D printers: The Ultimaker and the Printrbot. During the instruction, Cecilia tried to print an example of a ring she had previously designed with the Ultimaker (traditional model, with no add-ons). Typical for 3D printing: even when adjusting settings in (old version of) Cura (slicing and 3D printing software) while printing, it came out all distorted. Also in other labs, I had noticed that the right levelling of the x and y axis is a recurrent problem with the DIY Ultimaker. The solution was a switch to another Ultimaker available in the lab.
We started with testing the capabilities of 3D printers for the group assignment, using the Ultimaker and Emma's files she had recommended. Now well, the first came out as shit. Literally.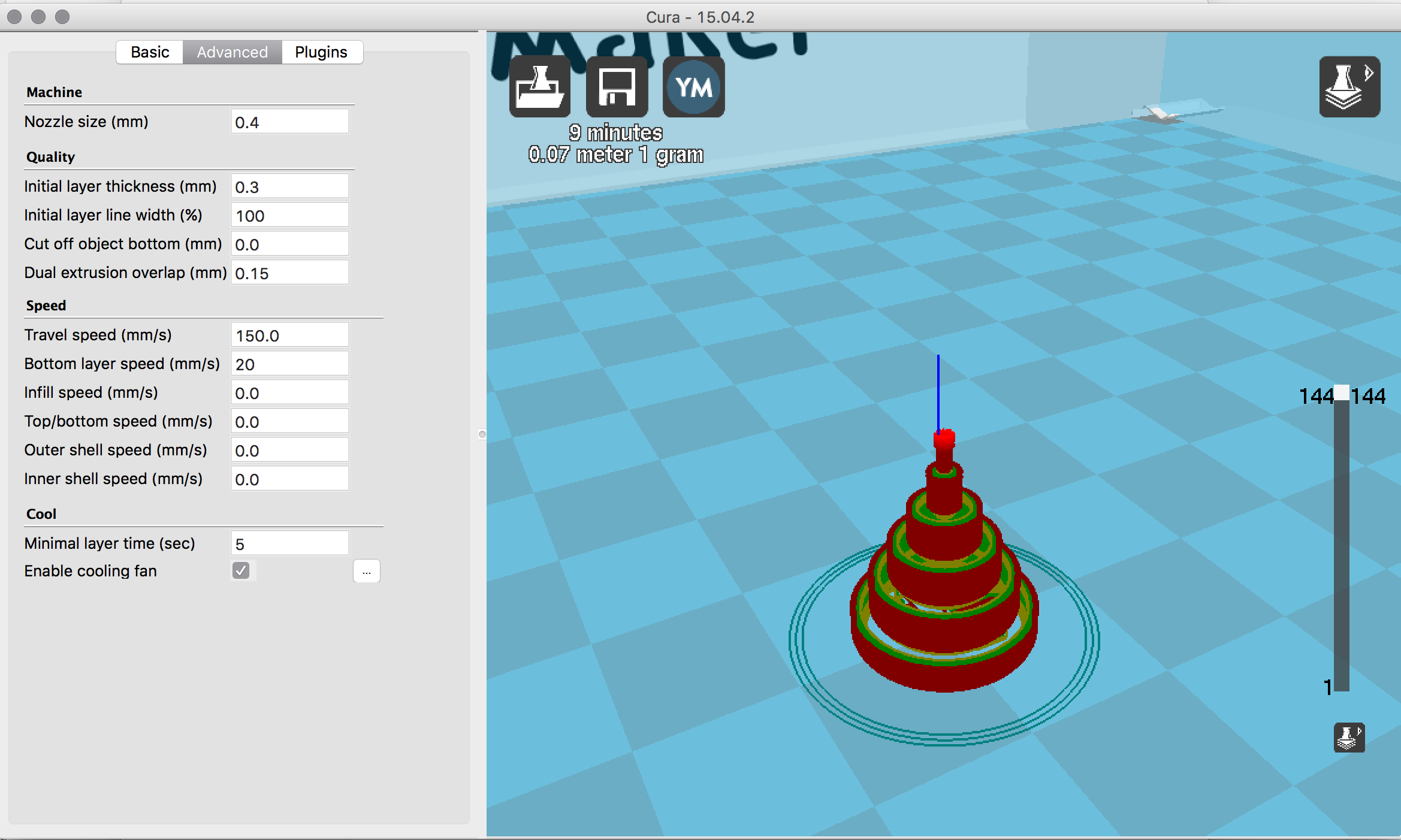 Although we had used pretty standard, recommended Cura settings (e.g. Temperature: 210 for PLA, speed 50, cooling and retraction enabled), my computer connected to the 3D printer had gone into screensaver mode (while listening to Emma's explanation of using the Modela for scanning), causing a pause and the printing to fail. Also, when removing the piece, I broke the top part. Luckily, the printing time had only been 20 min, so not so much lost. With this in mind, the second trial using the other test file, turned out much better. We also tested the Printrbot using a typical test file to make different versions in size (from 30mm to 45mm), mostly altering the size and speed settings, which came out ok-ish. It seemed that the larger we printed, the better detail obtained.
Then we were keen on using sparse printing time for our own projects. However, we continued to discuss trial and error for the rest of the week, as when 3D printing, one setting and size clearly does not fit all (allocated time, filament, size, settings such as temperature and speed can make a big varying difference as result).
Frequent problems seen are:
(1) pillowing (due to improper cooling), (2) stringing (lowering the temperature, speed and enable retraction can help to prevent this), and (3) warping (using a Brim in the Adhesion platform setting helped in my case). Adjusting the settings can make a huge difference in preventing 3D printing problems (see the Ultimaker site for helpful Cura tips). Still, it often goes wrong. Frequently heard in the Fab lab "(That's why) I hate 3D printing...!". Well, there are pros and cons...
Printers tested
- Printrbot Metal plus
Pros: Occasionally pretty good results | Has a heated bed (This way you ensure the first layer of the print doesn't cool too much, due to which it could shrink a lot).
Cons: Crashed! and got stuck after almost an hour of printing >computer communication problems?)
- Ultimaker -traditional (no add-ons)
Pros: Big community of supporters | You can built your own | You can use all kinds of (2.85 mm) filaments (wood, flex...) as material for your creation
Cons: The results are not as sleek as the Dimension printer
- Ultimaker 2
Pros: Small interactive screen on printer itself | You can load your design onto the printer using a USB stick so you do not need to worry about an active connection with your computer or shady usb ports (such as with my computer)
Cons: You can not built this model yourself
- Uprint (Used at Makerslab at Amsterdam University of Applied Sciences)
Pros: Near to plug and play printing | Different supportive material that you can wash away | No need to worry about overhang | Easy to print multiple objects in one go
Cons: More expensive | You can only print with one type of material unlike the above mentioned printers
3D Printing tips
There are a lot of different versions of Cura. The latest is not necessarily the best one. For example, in the latest Cura you can not change settings such as speed while printing, or save as .STL file without a workaround.
When experiencing issues with the first layer of your print (such in my case when the litho print was not rightly sticking with the Printrbot), re-level the build plate and try adjusting the heat of the bed.
To prevent warping I used the Cura feature called "Brim". To use the brim you must go to the Full (Advanced) settings in Cura. You can find it under "Support" > "Platform adhesion type". It will place a single layer thick flat area around your object, thus creating a bigger adhesion surface. After printing, the brim can be removed from the print.
Make sure to check whether you have enough material (filament) before printing. The software will usually tell you how much you need.
Using PLA (As opposed to ABS) is more environment-friendly, but typically also more brittle (especially when old, low quality, a lot of sun exposure). In my case, the filament broke while printing. However, there is also stronger, flexible 'Ninja flex' filament available.
3D scanning
Together with Cecilia, we explored different ways for 3D scanning. Particularly, using the XBox Kinect with a cable connecting directly to the Macbook (+Skanect scanning software for Mac), we made a scan of Shun (rotating on a chair) which came out really well.
Then, I wanted to explore whether it was possible to make a group 3D 'selfie' scan. It turned out that too many differently rotating people was a bridge too far. Sticking only two chairs with the backs together (with me and Sander rotating) helped as to have only one rotating point. Still, it became clear as that the Kinect prefers just one focal point as object.
We also played around with the Sense 3D scanner and software. Making perfect scans from objects (even using a turning table) and people turned out to be a bit difficult (one reason could have been the intense sunlighting conditions that day). However, the software was easy to use in terms of simply erasing and smoothing the scans.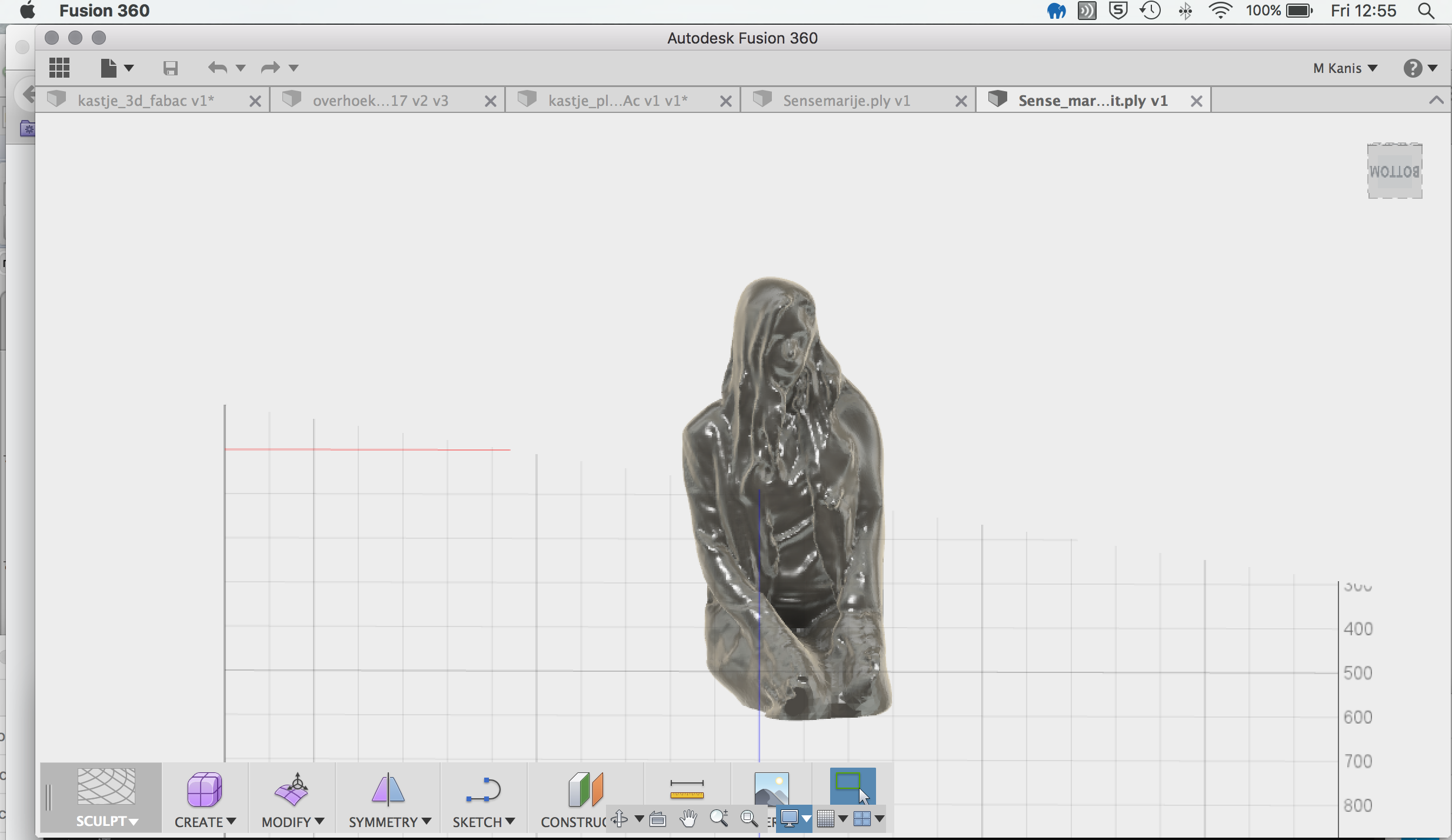 Emma also explained how the MDX-20 Modela milling machine could also be used for scanning by using a scanning head to the replace milling head. This way of scanning takes a long time (so I passed), however it can be great for precision scanning (of small objects).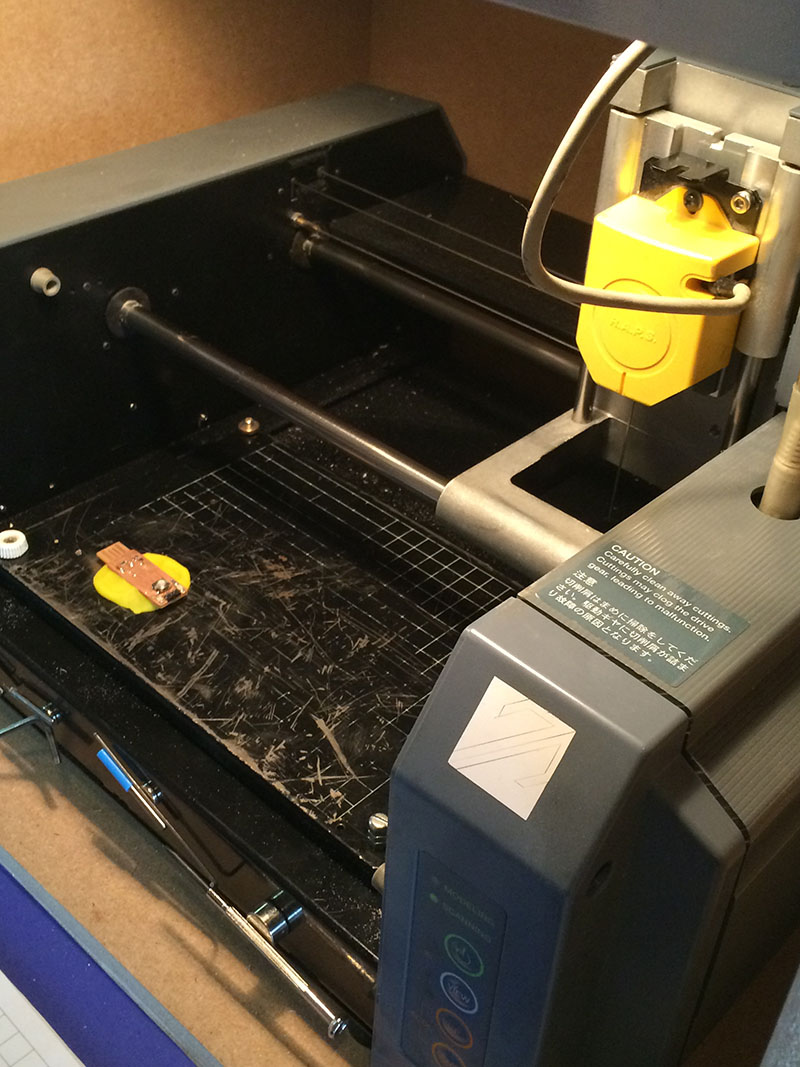 With my iPhone capability of making pictures, I used the 123D catch mobile app to test and make various 3D scans (of a lamp, sun glasses, wine bottle and me). It takes a long time for the application to process the resulting 3D scan from the photos. Furthermore, the application somehow failed to log me in so to share and let me download my 3D scanned files. Switching browser (from Firefox to Chrome) seemed to fix in the log in issue. Other than that, it is a handy, promising application for making 3D scans.
As I wanted to test the full range of available scanning techniques, I also trialled the 3D Body scanner (at the Makerslab at the Amsterdam University of Applied Sciences). This scanner is mainly used for body measuring research purposes, but it can also just make body scans). With the help of Loes and Shirley who succesfully completed the Fab Academy last year, we made a scan of me with the 3D body scanner. I tried Meshlab (open source program for processing and editing 3D triangular meshes) to clean up the resulting .obj file, but Loes tipped me that NetFabb software had an easier fixing command, which -apart from some crashing and saving issues- did the job indeed.
3D scanning findings
Although the Kinect gave great results for selfies, I found 123D catch the most accessible and easy way for creating 3D scans. Even though in some cases some photos for scans were underexposed, the result came out well. In my case, less (±30) photos turned out better than more (70) photos for scanning.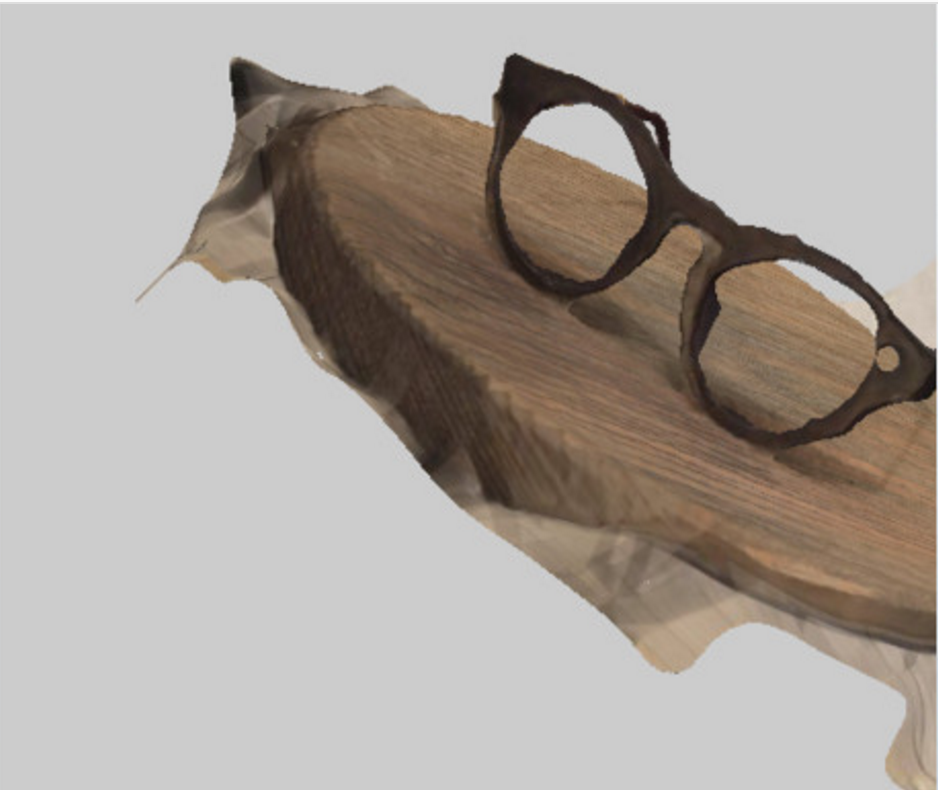 Tips
When 3D scanning with 123D Catch, make sure you have enough space to completely walk around the object
Make sure your objects are not reflective (e.g. made out of glass)
Keep or add some spatial markings (e.g. post-its) in addition to the object to be scanned for better scanning recognition.
3D printing
After scanning, I went on making a 3D printed very mini version of me using the Uprint 3D printer. In the Uprint pack for printing, I also added a 3D model of "Kastje naar de muur (From cabinet to Wall) in preparation of my final Bureau crazy project. The first time I tried with a wall constructed out of individual bricks, these came out all in individual pieces, so I changed it to a plain wall. Also, I detached one drawer, so to enable taking it in and out (while the others would be purposely stuck leaving little space). Printing with the Uprint-er takes a lot of time (as after printing you also need to wash off the supportive material), so I also explored the specific unique features of other 3D printers.
Exploring the unique 3D printing capabilities
Printing substractively
Contrary to subtractive processes (such as laser cutting), 3D printing is an additive process, meaning building in stages by adding layers. Exploring the unique 3D printing capabilities, I designed a toy car with internal hinge parts that could be printed in one go, as this would be difficult to accomplish using substractive techniques.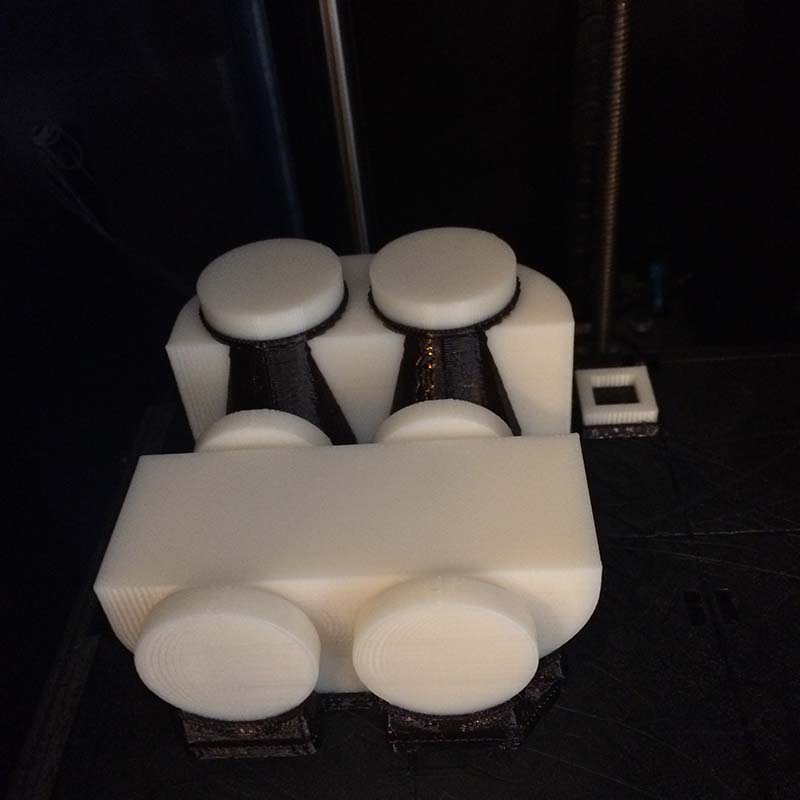 Lithophane as tangible reminder
This week, I also wanted to explore 3D lithophane functionality with pictures. A Lithophane is a 3D print of a photo which uses the thickness of the print to show varying shades of grey when illuminated from behind (see also this instructable). You could just use Cura to do this by directly importing a .jpg (always set a base), but I found this online tool with more promising functionality, called 3dp.rocks.
After the Printerbot had crashed and filament had broken while printing the lithophane I created from an old picture, I switched to the Ultimaker using enough semi-transparant filament (the other thinner filament for the Printerbot was running too low). I eventually manage to print it just in time for lab closure, on a smaller scale than originally planned card size (using 100% infill and slow speed in Cura. The result looks really interesting, depending on black and light conditions from both sizes. The combination of an old picture with new techniques adds a nice effect to it. It offers nice potential as tangible reminders and keepsakes which will be interesting to further explore in some of my current projects, or just to share it with my grandma.
Results and Files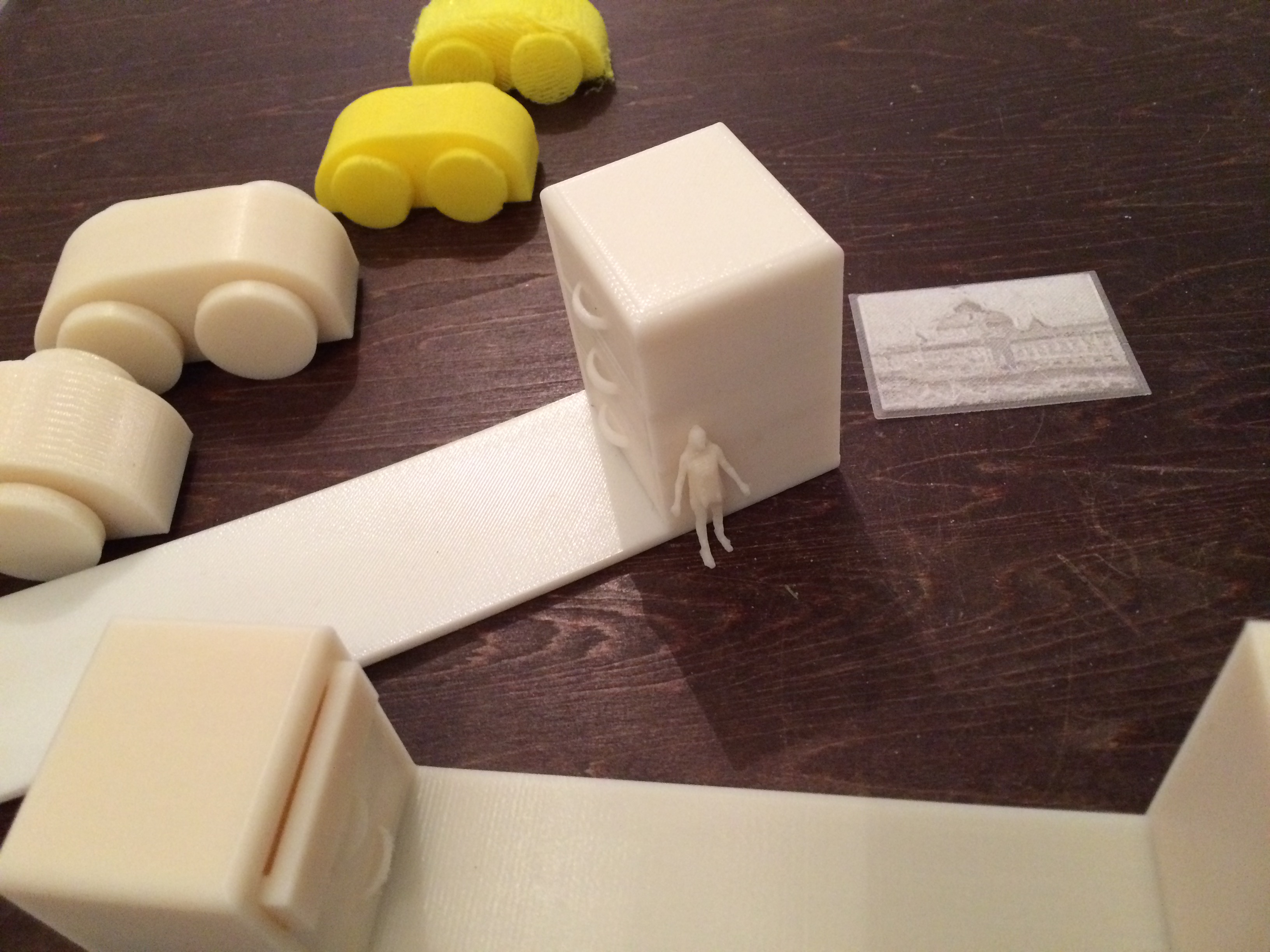 Scans
3D Printed
Conclusion
There is a lot to be (still) said (and done) about 3D printing and scanning
There is (often) a difference between what you 3D design and what the printer makes of it
3D printing simply works best in areas where uniqueness and personification is key
3D printing (and scanning) takes a lot of TIME and tweaking to get it right
3D printing is not like the microwave. The microwave is much faster...
Recommended
Nectar: keep an eye on this Dutch start-up, aiming for next generation 3D smart 'plug & play' printing (e.g. using smart filaments)
Handle with care; Do not use bloody tweezers or drop your precious 3D parts in the bin...
Watch the documentary Print: The legend (available on Netflix) 'til the end.